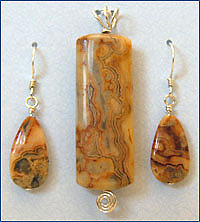 A "natural gemstone" is a mineral, stone, or organic matter (such as amber, pearl, petrified wood, and shell) that can be cut and polished or otherwise treated for use as jewelry or other ornament. A "precious" gemstone has beauty, durability, and rarity, whereas a "semiprecious" gemstone has only one or two of these qualities. -- U.S.G.S.
From lapidary sources around the world, I carefully select quality cut/polished gems in their natural colors (never artificially colored), and favor those with abstract patterns and earthy tones. I craft to celebrate the distinctive color palette of each season, and especially enjoy using native treasures that I find in the field such as dried seeds. None of my found objects are threatened or endangered species, nor are they collected where prohibited by law or in any way contrary to sensible conservation principles.

Supporting materials are selected for their beauty, durability, and eco-friendliness. Most metals are precious, either gold filled (a brass core bonded to a layer of 14K gold which is thicker and more permanent than gold plated) or sterling silver (92.5% pure silver alloyed with copper to strengthen it). NEW: Those materials are all at least 50% recycled, thanks to my wonderfully principled new suppliers. I also offer a few pieces set in hypoallergenic niobium or titanium, and in tarnish-resistant argentium silver. Beaded necklaces are strung on the highest quality professional beading cable, which is extremely strong and flexible for a graceful drape, with secure clasps. Pendants typically are hung from leather, satin, or waxed cotton cord which is slip-knotted to be adjustable.

Every item is one of a kind -- many by virtue of my design, and all because every gemstone is naturally unique. Each piece is tagged with a list of its components, and the tag is proudly initialed. Complimentary gift boxes are available on request; simply specify in the "Any gift boxes?" space on the Checkout page.

Care: As with all fine jewelry, it's best not to wear it when sleeping, showering, swimming, cleaning, or exercising. Store it in a clean, dry place; and keep sterling silver in an airtight bag to prevent tarnishing. Clean items with a soft cloth or dry silver polishing cloth, but avoid getting tarnish remover on the gemstones. Because they are made of small parts, keep them away from young children.